A Message for Community Inclusion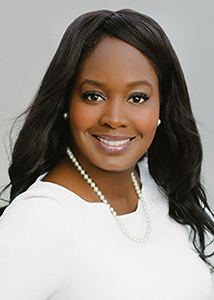 Dear Donors, Alumni, and Friends,
In this time of tragedy and uncertainty, I have taken time to collect my thoughts. After much contemplation, I look to the future and bring you a message of healing and hope.
As a black woman and the mother of black children, I feel sad, angry, and fearful. I worry that my son, not yet one year old, could face the brutality of system that repeatedly creates tragedies for families such as that of George Floyd. A family that has lost a son, brother, and father. This is not the first time that a passersby's camera has captured someone sworn to protect and serve, literally squeezing the life out of a black man. Nor is it the first time that I have turned to my husband and asked how we teach our son to protect himself if he is tall for his age when he is 12 or 13 years old. This is the crushing pressure of being black in America. The number of degrees that hang on my wall do nothing to alleviate the fear that one day I too will receive a phone call notifying me that my child, my brother, or my husband has died senselessly – murdered for nothing more than the melanin in his skin or the curliness of his hair.
Still there is a sense of hope. A hope that springs forth from the faces of people of all races, ethnicities, and ages coming together to say that enough is enough. Acknowledging a truth known to black communities across the country: that racism is systemic and left unaddressed it festers and eats at the soul of our country's collective consciousness. Recognizing this truth, we have seen police officers and military personnel embrace individuals and communities in pain, a demonstration of great compassion arising from an original act of malice and murder.
The history of black people in this country is one of struggle and pain, imposed by those with power and those who fear and judge others based on the color of their skin. With hope, action, and perseverance in the face of this great adversity, black people have and will continue to thrive. As will the San Mateo County Community College District's most vulnerable students, which includes students of color that identify as African American or as members of the African diaspora.
The SMCCC Foundation was built as an organization of hope. An organization that can help students imagine a brighter future through access to higher education. In this time of great fear and anxiety, the Foundation remains dedicated to our mission of providing the philanthropic support that ensures students have access to life-changing higher education at Cañada College, College of San Mateo, and Skyline College. We are here to do our part in diminishing systemic racism, bigotry, and hatred by helping break down barriers to higher education.
We would not exist without you, and the entire team thanks you for all that you do to further our mission. As we continue to navigate difficult thoughts and feelings, please know that we are here for you. It is our hope that you are staying safe and taking care of yourself during this pandemic that itself has exposed disparities in access to healthcare that too often track along racial lines.
We are truly at a crossroads in this nation and it may leave many of you asking what you can do to help in this moment. Some ideas include:
Give to educational institutions, nonprofits and groups you support, COVID-19 relief efforts, or organizations advancing racial equity or police reform;
Advocate for community college students and programs; and
Learn about racial equality, equity, and economic inclusion.
I leave you with the words of our former First Lady, Michelle Obama: "…if we ever hope to move past [race and racism], it can't just be on people of color to deal with it. It's up to all of us—Black, white, everyone—no matter how well-meaning we think we might be, to do the honest, uncomfortable work of rooting it out. It starts with self-examination and listening to those whose lives are different from our own. It ends with justice, compassion, and empathy that manifests in our lives and on our streets. I pray we all have the strength for that journey, just as I pray for the souls and the families of those who were taken from us."
I look forward to continuing the work with you, and I thank you for your ongoing support of the San Mateo County Community Colleges Foundation.
Sincerely,

Tykia Warden
Executive Director
SMCCC Foundation