This Holiday Season We Thank Our Generous Corporate Donors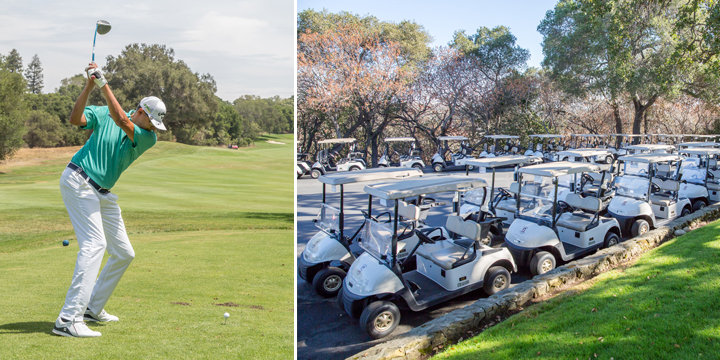 Earlier this year, the San Mateo County Community College Foundation held our 8th annual Golf Tournament — our most successful fundraising event to date. Thanks to the generosity of our sponsors and players, the event raised enough money to fund tuition and fees for more than 100 promise scholars!
In this season of generosity and goodwill, the Foundation staff would like to express our gratitude to the companies and individuals who help our students realize their dreams. These special donors also enable our colleges to provide competitive programs that ensure student success and contribute to our community's vitality.
The Foundation had the opportunity to speak with some of our lead Golf Tournament donors about their business successes, how they embrace philanthropy, and their histories with the District and the Foundation. Over the next couple weeks leading up to the holidays, look for articles highlighting these lead donors!
Thank you to all the Golf Tournament sponsors and players, individual ticket buyers, raffle prize donors, volunteers, and supporters for your overwhelming generosity and support. Happy holidays to you and your family!
2019 SMCCC Foundation Golf Tournament Sponsors:
Tournament Sponsors:
Blach Construction/ELS Architecture and Urban Design
Schneider Electric


Chancellor Sponsors: Allana Buick & Bers, Dignity Health Sequoia Hospital, and Swinerton Management & Consulting



President Sponsors: Robert A. Bothman Construction, InterMountain Electric Company, Jay Paul Company, McCarthy Building Companies, Inc., Provident Credit Union, Siemens, Western Allied Mechanical, Inc., XL Construction
Director Sponsors: Atlas/Pellizzari Electric, Inc., BCA Architects, BKF Engineers, Casey-Fogli Concrete Contractors, Inc., CIS, Inc., DPR Construction, Group 4 Architecture, Research + Planning, HGA Architects, Rodan Builders, Inc., Turner Construction Company
College Sponsors: DIRTT + Vantis, Keenan & Associates, Steinberg Hart
Hole-In-One-Car Sponsor: Putnam Subaru & Putnam Mazda
Hole Sponsors: Acme Security Systems, Alfa Tech Consulting Engineers, Buehler Engineering, Inc., CAW Architects, Inc., Consolidated Engineering Laboratories, Coulter Construction, Inc., Embarcadero Capital Partners, Hensel Phelps, Jones Hall, APLC, Lionakis, LPA Design Studios, Netronix Integration, One Workplace + Steelcase, Palo Alto Networks + Digital Scepter, Plumbers Local Union 467 & Apprenticeship, Reliable Concepts Corporation, Rosendin Electric, Inc., Salesforce.org, San Mateo Credit Union, Signet Testing Laboratories, Inc., Strata Information Group, Teecom
For more information about the SMCCC Foundation's Golf Tournament, contact Dafna Kapshud.