Annual Golf Tournament 2021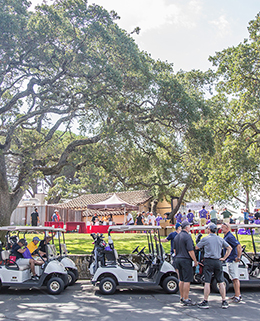 A fun day on the links at the beautiful and exclusive Stanford University Golf Course
The 9th annual Golf Tournament, supporting students at the San Mateo County Community College District, will take place at the Stanford University Golf Course on September 27, 2021. To register, download the Sponsor Menu & Registration Form or register online below.
Thanks to the phenomenal support of our community, SMCCCF's annual Golf Tournament has been our single most successful fundraising event each year since its inception. 2019's event grossed over $240,000 (a record amount) to support the District's students!
View photos of the 2019 event on Facebook or on Flickr.
Proceeds of the September 27, 2021 tournament will support Cañada College, College of San Mateo, and Skyline College students' basic needs, helping continue efforts to ensure that quality, affordable higher education is available to every member of our community. Please note: this Golf Tournament will be modified because of the current health situation. There will be no gatherings and golf start times will be staggered. There will not be a breakfast or dinner gathering, but there will be a box lunch available. This modified format may change if the health situation improves.