Impact Report: Year-End 2020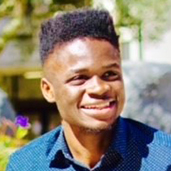 Kouassi Franck Josias Yao, Skyline College Alumnus
Skyline College alumnus Franck Yao is on a mission. Keenly aware of the opportunities before him, he's determined to reach his professional goals, but equally determined to make a difference in the world.
Franck is on a mission to bring tech sector innovation and job opportunities to his native Côte d'Ivoire, a coastal nation in the west of Africa, best known for beaches and tourism. If Franck has his way, one day, it'll also be known as a hub of innovation as well.
Despite being a young man, the accolades and opportunities keep coming for Franck. And he credits much of it to the strong foundations he built attending Skyline College, as well as his faculty mentors.
He first became familiar with Skyline College during a college and university fair held by the U.S. Embassy in Côte d'Ivoire. After considering many others, he ultimately decided that Skyline College had the right mix of academic programs, student support, and an enviable proximity to Silicon Valley's tech community. Those attributes, coupled with proven university transfer programs and scholarship opportunities, were all key to his ability to attend Skyline. A recipient of the Global BECCA scholarship, it created the path for him to pursue higher education at Skyline College. After completing his studies at Skyline College, he accepted a full scholarship to attend Elizabeth City State University, an HBCU, in North Carolina.
Currently in his last semester at ECSU, it came as no surprise to anyone who knows him, when Franck was named as a Forbes Under 30 Overachiever for two consecutive years — 2018 and 2019 — selected among thousands of candidates for the elite global mentorship program. He now has the ability to access investors, entrepreneurs, celebrities, musicians, fashion designers, sports stars, cultural icons, world-renowned chefs, educators, political leaders, and business icons. "All people I need to know as a future entrepreneur myself."
In addition to the Forbes honor, he's also been a United Nations Youth Ambassador, through a program developed by the Obama Foundation, identifying 1,000 young Africans to participate in global solutions. And he completed a fellowship in Silicon Valley with the likes of Google, You Tube, and Twitter. What's next for Franck? After graduation, he'll begin working for Microsoft. Fluent in French and English, he's eager to begin working on systems to bridge artificial intelligence and economics. The future is bright for this Skyline College Trojan. "American colleges are the envy of the world. It ensures the world's best and brightest dream of studying in the USA." Franck aims to make sure that scholarship donors know how big of an impact they make. How their gifts make sure the promise of an American college education is just as bright for other international students.
---
Read more Impact Report articles.
Download a pdf version of the Impact Report.