What to Support

The San Mateo County Community Colleges Foundation funds scholarships and programs at the District's three colleges: Cañada College, College of San Mateo, and Skyline College.
The Chancellor's Circle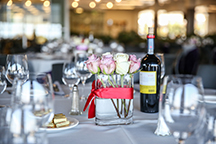 The Chancellor's Circle is composed of local leaders and philanthropists who contribute $1,000 or more to the Foundation over the course of one fiscal year (July 1-June 30). These generous donations allow the Foundation to sustain student scholarships, programs grants, and funding for innovative faculty and staff projects. As the Foundation's highest-level donors, members of the Chancellor's Circle are acknowledged in the Foundation's annual report, and are invited to meet the District Chancellor at an exclusive annual reception in January. Members also receive invitations to special campus and community events as well as updates on the Foundation, the colleges, and the District.
To join the Chancellor's Circle or renew your membership, visit the Foundation's donation page.
Thank you to the Foundation's current Chancellor's Circle donors.