Impact Report: Year-End 2020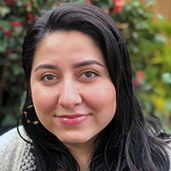 Nimsi Garcia, Cañada College Alumna
Nimsi Garcia is passionate about advocating for non-traditional students. She's keenly aware of what it's like to have a dream of attending a university, but with limited or no resources. Desire alone, is not enough to make it a reality.
Despite her own academic potential, a college education seemed virtually impossible to Nimsi. The daughter of immigrants, she grew up in Redwood City. Nimsi was the first person in her family to apply to attend a university. Neither of her parents were fluent English speakers. Couple her parents' lack of English language-proficiency, with demanding work schedules, and a lack of knowledge about the entire U.S. college application process, and you start to understand why a young Nimsi had set her dream aside. Fortunately for Nimsi, her heartbreak didn't last for long. A friend, who had previously attended Cañada College, explained the college's transfer program, and tipped her off to campus resources and potential scholarships. Suddenly, Nimsi knew that while it would be challenging, it was also possible to achieve her goal of a university degree.
After two years at Cañada College, where she earned a degree in Economics, she was accepted to UC Berkeley as a transfer student. She thrived at Cal, eventually becoming a peer advisor. Nimsi is grateful for the resources that were there to support her academic journey.
She's especially grateful for the programs specifically geared toward community college transfers. And the donors who made her scholarship — and ultimately education, possible. Nimsi reflects on how fortunate she was to receive such an outstanding education, without the burden of student loans. She received a scholarship from the Menlo Park Rotary, as well as book vouchers through EOPS. Yet another grant enabled her to purchase a monthly bus pass, which she used to catch four different buses required to get to campus each day.
After graduating from Cal, others might be content to focus on themselves and their own career aspirations. Not Nimsi. Even today, she continues to look for opportunities to clear blocks for non-traditional students. What once was done for her, today she does for others. In fact, her younger brother and two cousins have all enrolled at Cañada College thanks to her success.
And in addition to volunteering her time to teach classes in both filmmaking and social justice at the local Boys and Girls Club, Nimsi was thrilled to accept a job as a Program Services Coordinator for the ¡ESO! Adelante Program at Cañada College, her first alma mater and a place near and dear to her heart. The program, which supports Latino, high-need, high-potential, and low-resource students, means her work has come full circle. When asked how she finds the time to do so much, she replies, "I don't want to be the only. I don't want to be the last. It's important that others see what's possible and know the pathway to achieve it."
---
Read more Impact Report articles.
Download a pdf version of the Impact Report.