Impact Report: Year-End 2020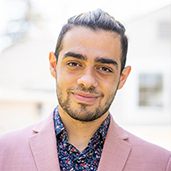 Adrian Afif: Current Student at College of San Mateo and Cañada College
Adrian Afif is a true testament to the power and effectiveness of the San Mateo County Community College District and, indeed, the community college system in California.
Adrian had a typical upbringing in a Middle Eastern family — his mother is Persian and his father is Lebanese. A native to the Peninsula, he attended Carlmont High School in Belmont. "I wasn't into education in high school so I didn't work very hard. I didn't understand my own potential. I didn't feel like I had a lot of support at school." Both of Adrian's parents are college graduates, who had moved to the U.S. right before high school. While they tried to motivate him to do well in high school and continue his education, their experiences as immigrants were so very different from Adrian's and they had a hard time supporting him in the way that he needed.
After applying to several colleges, Adrian was disappointed when he wasn't accepted at any of his choice schools. "I wound up going to California State University, Chico for college because it was the only school where I was accepted. I wasn't sure what I was doing." Following a year of uncertainty, Adrian realized he wasn't on the right path and he returned home to the Bay Area.
When he left Chico State and moved back to the Peninsula, Adrian and his partner decided to live together independently of his parents. He chose to attend College of San Mateo (CSM) and Cañada College. "I needed to figure out my direction, what I was going to do with the rest of my life. I chose CSM and Cañada College because they were close to home and there were so many job opportunities and I wanted to make sure I could be independent. CSM also had the program I was interested in."
Once Adrian had made his choice to attend CSM and Cañada College, he knew he had made the right decision for his life and his future. "There is this amazing support system here. They want students to succeed. From the day I applied, I started getting emails about jobs." As a member of the Associated Students of Cañada College, Adrian was encouraged to apply for scholarships by his advisor, Michiko Kealoha, who also wrote a letter of recommendation for him. "This was the first time I ever received scholarships! It gave me confidence and showed me that my hard work really paid off. I felt recognized and the scholarships helped support my education. Receiving scholarships encouraged me to apply to my dream universities for transfer. I'm really grateful to the donors!" Adrian is the recipient of the Lois Mueller Memorial Scholarship and the GB & HB Endowed Scholarship.
Adrian also works on campus as a Promise Scholars Program Ambassador, which gives him the opportunity to reach out to high school students, host virtual events, and connect with students to ensure they are meeting with their counselors and receiving necessary information. Even though he is not a Promise Scholar himself (the program is only open to first time college students), Adrian has expressed gratitude for the support he receives from the program because of his role as an ambassador. During the current pandemic, Adrian was also hired as a Peer Mentor for the ¡ESO! Adelante Program which supports Latino and low- resourced students in their transfer pathway to San Francisco State University.
When asked about his plans for the future, Adrian now feels hopeful. He is studying filmmaking and will be transferring to a four-year institution in the fall to focus on screenwriting. "So far I've gotten into every college where I have applied, including UC Irvine, UC Davis, UC Long Beach, and Chapman University. I'm still waiting on UCLA, USC, and Stanford. I'm so grateful to CSM, Cañada College, and the Foundation's donors. I couldn't have done this without all the help and support I received."
One final note: Adrian has been hired by the Foundation to create a series of videos highlighting our scholarship recipients!
---
Read more Impact Report articles.
Download a pdf version of the Impact Report.