Impact Report: Year-End 2020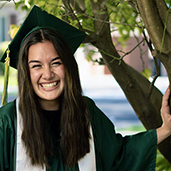 Aimee Kanadjian: Current Student at Cañada College
Aimee Kanadjian describes her high school experience as really tough. "I didn't have the support I needed and I didn't succeed academically at all. I didn't have any big plans or dreams for the future and I didn't get into any of the colleges where I applied." Feeling aimless and unsupported, she decided to give community college a try thinking *as it turns out, correctly* that she would have better opportunities and better success.
The daughter of immigrants — her father is Armenian and grew up in Ethiopia and her mother is originally from Japan — Aimee was raised locally in San Carlos "My dad was sponsored to come to the US for his education and lucky enough to go to UC Irvine as a first-generation college student. Growing up, he always told me that an education was the best investment that anyone can make." Her experiences at Cañada College have shown Aimee the truth in her father's value for education. "I am lucky to be here with everything they sacrificed and it is a great privilege to get an education."
In August 2019, Aimee started on her journey in higher education as a Promise Scholar at Cañada College. She learned about the program from a Cañada College representative who spoke to her high school class and through word of mouth from a friend who had started attending the college the year before. Aimee's tuition, fees, and books are paid through the Scholars Promise Program, partially funded by Foundation donors. She also has access to counselors to help ensure she is on the right path graduation and transfer to a university. "I don't want to imagine a world without Promise — no one is ever going to love me as much as the Promise Scholars Program does! I don't have to stress about classes or books and I have more time to purely focus on school, which is amazing!"
During her time at Cañada College, Aimee has also received assistance from the Foundation's Emergency Funds program, designed to help students during this challenging economic time. "When the pandemic hit my work wouldn't give me any hours and when I did get hours, I was scheduled for only half the time. I'm so thankful for the extra money from the Foundation Emergency Fund — it gave me peace of mind to know that I could cover my expenses when I was unable to work."
Thanks to almost two years at Cañada college, Aimee now has an academic and career path, and dreams for the future. "Having so much support, and having such a good time and career resources, I am prepared to do the things I want to do and have a career." As a result of her time at Cañada College and the Promise Scholars Program scholarship and support, she is preparing to transfer to a four-year university to make her dreams happen. She plans to study psychology at a UC and continue on for her Master's Degree in speech pathology.
After a rough time in high school, Aimee has been on the Dean's List every semester at Cañada College. She is in the honors program and is a Student Senator with the Associated Students of Cañada College. In that role, she plans and hosts events, meets with faculty members, is on the professional development and task force committees, and is part of the campus inclusion initiative. "I'm really excited about my future and my dreams. I have succeeded today because of all the resources that were available to me at Cañada College, and through the Promise Scholars Program and other help I received. I am grateful for all the help I received and to my parents, who taught me to value education and hard work."
---
Read more Impact Report articles.
Download a pdf version of the Impact Report.