More than a scholarship, the Promise Scholars Program provides an engaged, supportive, and inclusive community — a home on campus.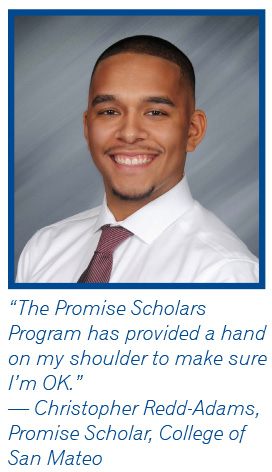 All three of the San Mateo County Community College District's colleges — Cañada College, College of San Mateo, and Skyline College — have committed to making college affordable for all students through the Promise Scholars Program.
Scholarship awardees receive a waiver for up to three years covering all enrollment fees for any gap left after applying their financial aid award. The Scholarship is unique in that it covers fees and transportation, books, and more, all of which are financial barriers that can prevent students from being able to pursue the dream of higher education. Students also have access to textbooks and instructional material, and receive support services to help ensure they can graduate on time to start their careers or go on to four-year institutions. At least 80% of Promise Scholars are low income and special consideration is given to first generation college students, former foster youth, and homeless students.
At a cost of $1,600 per year per student for tuition, fees, books, and transportation, the Promise Scholars Program is funded through the support of the SMCCC District and Foundation. (Total cost per student, including other wrap-around services such as career and academic counseling and support, is $3,200.)
While the Governor has signed AB19, the California Promise Program, it does not fully fund three years of college and all the wrap-around services that are included in the SMCCC District's Promise Scholars Program. The Program depends on the support of generous donors to provide the promise of higher education to all students attending the SMCCC District's colleges.


The Promise Scholars Program provides dedicated resources to guarantee success:


To support the Promise Scholars Program



To support the program at a specific college, visit the Foundation's donation page. Under "Designation," choose "College of San Mateo Promise Scholars Program Fund" or choose "other" and enter "Skyline College Promise Scholars Program Fund" or "Cañada College Promise Scholars Program Fund." You may also contact any of the Foundation's staff, and we'll help you with your donation.