Events at Home: Improving Sleep with Emily Risk, RN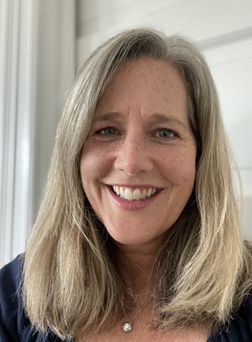 Thursday, November 18, 2021 | noon PST
"There is a time for many words. There is also a time for sleep." – Homer.
You're invited to join us for a fascinating conversation about sleep health. A good night's sleep is probably the single most important thing you can do to ensure your mental and physical wellness, but modern lifestyles make it harder and harder to achieve. Whether it's the 24/7 nature of our work-from-home culture, the lure of and constant presence of technology, or just stress of balancing home and work. Emily Risk will explain the latest science on sleep, and share her favorite tips for a good night's sleep.
Emily Risk has been a practicing registered nurse for the past 17 years and part of the campus care team at Skyline College for the past 14 years, where she assists students, faculty and staff as they achieve their health goals. Prior to working at Skyline, Emily held positions at Lucile Packard Children's Hospital at Stanford working with solid organ transplant patients. Emily graduated from San Francisco State with a BA degree in Psychology and minors in both Biology and Holistic Health. She later earned her Master of Science in Nursing as well as gained licenses as a Clinical Nurse Specialist and a Family Nurse Practitioner at The University of San Francisco.
Emily has a passion for supporting people to help themselves achieve better health by maximizing their sleep, diet, exercise and stress. She believes in motivating and empowering her patients by teaching them how to adjust their lifestyle choices in manageable ways in order to feel confident, stay focused, and achieve positive results.
When she is not taking care of the Skyline community, she is busy at home taking care of her husband, daughters, chickens, cats and hamsters. Emily's idea of self-care is hiking, biking, gardening and enjoying quality time with her family and friends.
To register for this free event, please fill out the form below.
---
San Mateo County Community Colleges Foundation's Events at Home is a virtual series featuring discussions and informative, engaging topics. Diverse topics span the latest on health and wellness, entertainment, and more. Click here for a full list of events.