Josh Gialis
Cañada College Alumnus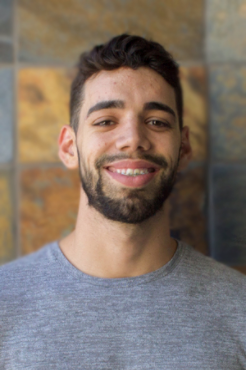 Josue "Josh" Gialis and his two sisters were raised by a single mother who tried her best to steer her children towards academic success. While most teens are thinking about gaming, parties, and the junior high prom, Josh's family struggled economically and spent some time at a homeless shelter. During his senior year of high school, Josh knew he wanted to do something meaningful with his life and that higher education was his way out of poverty. Josh enrolled in a couple of classes at Cañada College and worked 40-55 hours per week. He found it difficult to succeed in school and pursue his degree while helping ensure his family had food and a home. A year later his struggles became more acute when Josh, his mother, and his sister once again found themselves in a homeless shelter.
"This dark moment was my epiphany. I needed to change my life, to envision where I wanted to be and what I wanted for my family."
Josh set out to learn about all the resources for success available to him at Cañada College. He applied for scholarships and, to his surprise and joy, was rewarded with a Kruttschnitt Aspire Scholarship, the Dale & Helen Mersereau Scholarship, and other awards. "After four years, I finally graduated and transferred to a university! If it weren't for the scholarships I received, I'd still be struggling to make it through. I was able to cut my work hours in half to focus on school."

Thanks to the scholarships he received, Josh had the time to take more classes and focus on his grades. He no longer had to worry about where his or his family's next meal will come from or whether they will have someplace to sleep for the night. He transferred to UC Santa Barbara, where he now studies computer science.
"I'm so grateful to the generous donors and one day, I plan to give back to my community by establishing a scholarship to help more young people like me succeed."