Cañada College President's Luncheon: October 25, 2022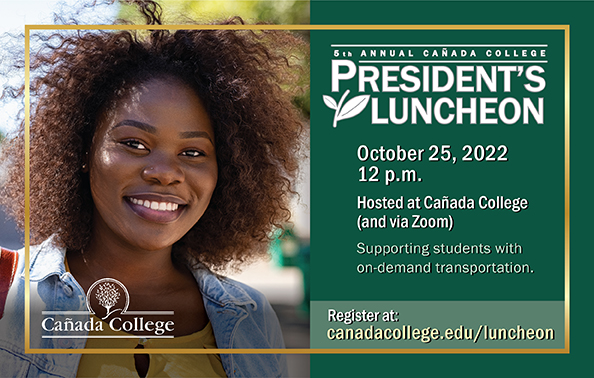 President's Luncheon: October 25, 2022
Thank you for your ongoing support of Cañada College and the Fifth Annual President's Luncheon. As a college, we are dedicated to providing our students with the support they need to help them achieve their academic goals. Your contribution to this year's President's Luncheon ensures that students are able to access the campus by providing seamless and safe on-demand transportation to and from Cañada College.
The President's Luncheon will be held both in-person at Cañada College and streamed virtually, on Tuesday, October 25, 2022. For those attending in-person, a lunch will be held at Cañada College from 11:30 a.m.-12 p.m. The program (for in-person and virtual guests) will run from 12-12:30 p.m. with an option for in-person guests to tour the campus after the program.
Even if you are unable to attend, your support, through a contribution to the President's Luncheon, will make a difference to Cañada College's students.
Thank you for your consideration and we look forward to seeing you, on campus or virtually, at our President's Luncheon on October 25!
Click here to register for the event.
Click here for information about sponsoring the President's Luncheon.