Events At Home: In Honor of Women's History Month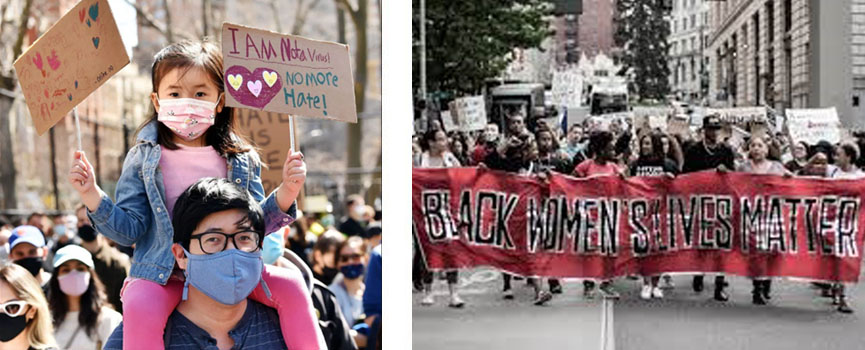 Due to recent events, we have decided to make a change to our upcoming workshop. We will now co-host a two-part series with Professors Seon-Hye Moon and Malathi Iyengar
---
Processing Atlanta: An Asian American Studies Perspective
Tuesday, March 30, 2021 | 5:30-6:30pm PDT
A collaboration between SMCCCF and Professors Malathi Iyengar & Seon-Hye Moon

Join us for a conversation about critical ethnic studies frameworks and how they enable us to process the massacres in Atlanta.
(We will present the new workshop on this date. "Can Dolly Save Us?" has been moved to the end of April.)
---

Can Dolly Save Us?
Examining American Exceptionalism Through a Black Feminist Perspective


Tuesday, April 27, 2021 | 5:30-6:30pm PDT
A collaboration between SMCCCF and Professor Seon-Hye Moon
The past few years have been Dolly years. What drives our current cultural fascination--and worship--of Dolly Parton? How can we read this alongside the realities of our #BlackLivesMatter and the #MeToo movements? Is there a connection? This talk will explore these questions through the work of Black feminist scholars.
---
Professor Seon-Hye Moon (she/her) is an Assistant Professor of Ethnic Studies at College of San Mateo. She applies interdisciplinary methods to her research focused on socially reproductive labor of women with an emphasis on women of color. Currently, her dissertation research centers on the gendered and racialized labors of the early childhood education workforce. She earned her BA in Literature from Columbia University, an MA in Ethnic Studies from San Francisco State. Presently, Professor Moon is working towards her Ph.D. in Cultural Studies at UC Davis.
---
San Mateo County Community Colleges Foundation's Events at Home is a virtual series featuring discussions and informative, engaging topics during this difficult time. Diverse topics span the latest on health and wellness, entertainment, and more. Information about upcoming events can be found on the Foundation's website.