Supporting Our Heroes

SMCCCD Programs, Students, and Alumni:
Making a Difference During COVID-19
The San Mateo County Community College District's colleges, Students, and alumni have stepped up in ordinary and extraordinary ways to help our District and broader community during the COVID-19 pandemic. Over the next few weeks, we will share stories that may inspire you and will show you the empathy and giving spirit embodied throughout the District.
---
College of San Mateo Alumna, Allison Fuller:


"Nursing is more than a career. It's a calling."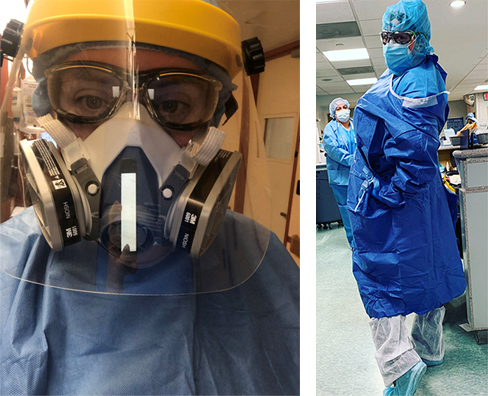 Despite being a young woman, Allison Fuller has ties to the College of San Mateo that go back nearly 20 years. It's a connection she speaks of fondly and openly, as she talks about the importance of nurses and the vital role they play – both in good times and trying times, such as now as the COVID-19 pandemic rages on and nurses are on the front lines fighting against it.
Allison credits the support she received at CSM – both financial support through a scholarship she received, as well as the training and encouragement she received from caring and capable faculty members. Faculty who believed in her, even more than she believed in herself during the very earliest days.
Born and raised in San Bruno, Calif., Fuller completed her high school education by attending Middle College on the CSM campus, a joint venture between the San Mateo Union High School District and the San Mateo County Community College District. The program offers a unique pathway for the county's high school students to accomplish their secondary and post-secondary academic goals, in a supportive and small learning community.
After graduating from Middle College, Alison didn't have to travel far to continue her studies and follow her dream. Fuller is the first to tell you that while she's a caregiver by nature, she's also a bit of an adrenaline junkie, which makes her well-suited for a career as both a flight nurse and a cardiac ICU nurse. Two jobs that, even during ordinary times, are not for the faint of heart, but allow her to help her community, sometimes when it needs help the most.
As news of the COVID-19 pandemic spread, Fuller knew she could help even more people than she does in her normal duties. So, she answered the call of New York's Gov. Andrew Cuomo and volunteered to travel to New York City to address the nursing shortage in area hospitals. Despite working six days a week in Manhattan, Allison loves nursing and CSM so much, she recently took time out of her busy schedule to talk to the Class of 2020 nursing cohort about nursing as a profession and their futures.
During her comments to the graduates, Fuller says her work as a nurse has led her to some incredible adventures, but what she loves the most about the job is the way it lets her help people on an individual level and her community on a broader level. That was true in her early days after graduating and it remains true now. Even while working far from home and in the middle of a healthcare crisis. She described nursing as just as vital of a profession, and just as meaningful personally today, as it was 200 years ago. She called nurses like herself, a "bridge" and the interpreters who translate between the often highly-technical medical staff and treatment methodologies, with the compassion and understanding required by the general public.
"Nursing is more than a career. It's a calling," says Fuller.