Centennial Closing Week at CSM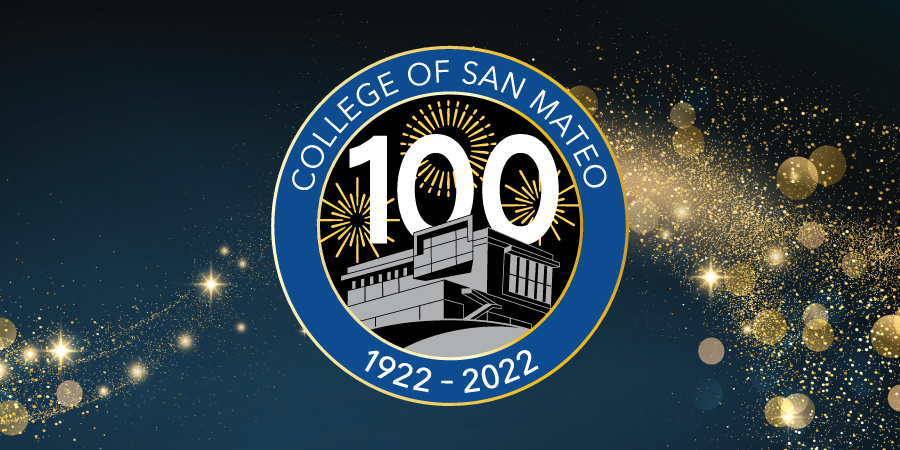 Join us as we celebrate a century of excellence at College of San Mateo!
We are excited to invite you to our Centennial Closing Events, a special occasion to commemorate 100 years of outstanding education and community service. The events will take place between April 4-7, 2023, and will include a variety of activities for everyone to enjoy.
Tuesday, April 4
Time: 11 am-1 pm
Location: Center for Equity, Leadership & Community Building 17
Please join us for Building 17's Open House and a free Farmer's Market! Visit CSM's learning communities while enjoying refreshments and live music. Thanks to Second Harvest for their partnership and fresh produce.
Time: 2:00 – 4:00 pm
Location: Science Building 36, Room 110
Learn about the Mathematics, Engineering, Science Achievement (MESA) program at CSM. Meet the students in the program and learn about how MESA is working to develop a new generation of STEM leaders.
Time: 2:30 – 3:30 pm
Location: Plaza of the Sun (near Planetarium, on north side of Science Building 36)
The Drone Mapping Club will show how they use drones to make maps of features on the land. Watch as a drone flies on autopilot to collect mapping data, talk to the student researchers, and see the 3D maps they make.
Time: 3:30-4:15 pm
Location: Planetarium Building 36
Discover how asteroids and comets have collided with our planet throughout history, changing the course of life on Earth and shaping the world we know today.
Wednesday, April 5
Time: 1:00 – 3:00 pm
Location: Library Building 9
Visit the CSM Makerspace to learn about the wide variety of tools available to unlock your creative vision. While there, you'll also be able create your own custom coasters and ID badges!
Thursday, April 6
OPENING RECEPTION
Time: 10:15-11:15 am
Location: Library Building 9
EXHIBIT
On display from from April 6 through May 20
in the Library.
Come check out the work of former CSM Digital Media students! Includes graphic design, UI/UX, digital illustrations & photography.
Time: 3:30-5:30 pm
Location: Health & Wellness Building 5, Rooms 370 & 380
See the open skills lab session in action and observe what students are practicing to complete their skills checklist.
Time: 5:30-8:30 pm
Location: Bayview Dining Room, College Center Building 10
Please join us for an evening filled with art, jazz, culture and soul, featuring Grammy Award-winner Tony Lindsay.
Friday, April 7
Time: 7-10 pm
Location: Theater Building 3
Join Professor Mohsen Janatpour for a fascinating talk on how to see with artistic and scientific eyes, followed by a reception and star gazing with astronomy faculty.