Annual Golf Tournament 2018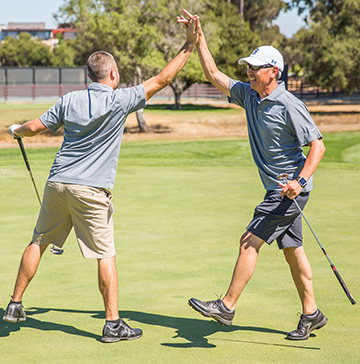 A fun day on the links at the beautiful and exclusive Stanford University Golf Course
The 7th annual tournament on August 6, 2018 at the Stanford University Golf Course was a great success!
Thanks to the phenomenal support of our community, SMCCCF's annual golf tournament has been our single most successful fundraising event each year since its inception. This year's event grossed over $200,000 (a record amount) to support the District's students!
View photos of the event on Facebook or on Flickr.
Proceeds of the tournament will benefit local students at Cañada College, College of San Mateo, and Skyline College, and help us continue our efforts to ensure that quality, affordable higher education is available to every member of our community.
This year's Golf Tournament took place on August 6, 2018 at the famed Stanford University Golf Course. Players enjoyed a rare opportunity to hit the links, along with good food, drinks, contests, cigars, great prizes, and more!
Photos from the event as well as fundraising totals will be posted shortly. For more information, please contact Dafna Kapshud, Marketing and Communications Manager at kapshudd@smccd.edu or 650.358.6791.