Skyline College Surgical Tech Reunion 2022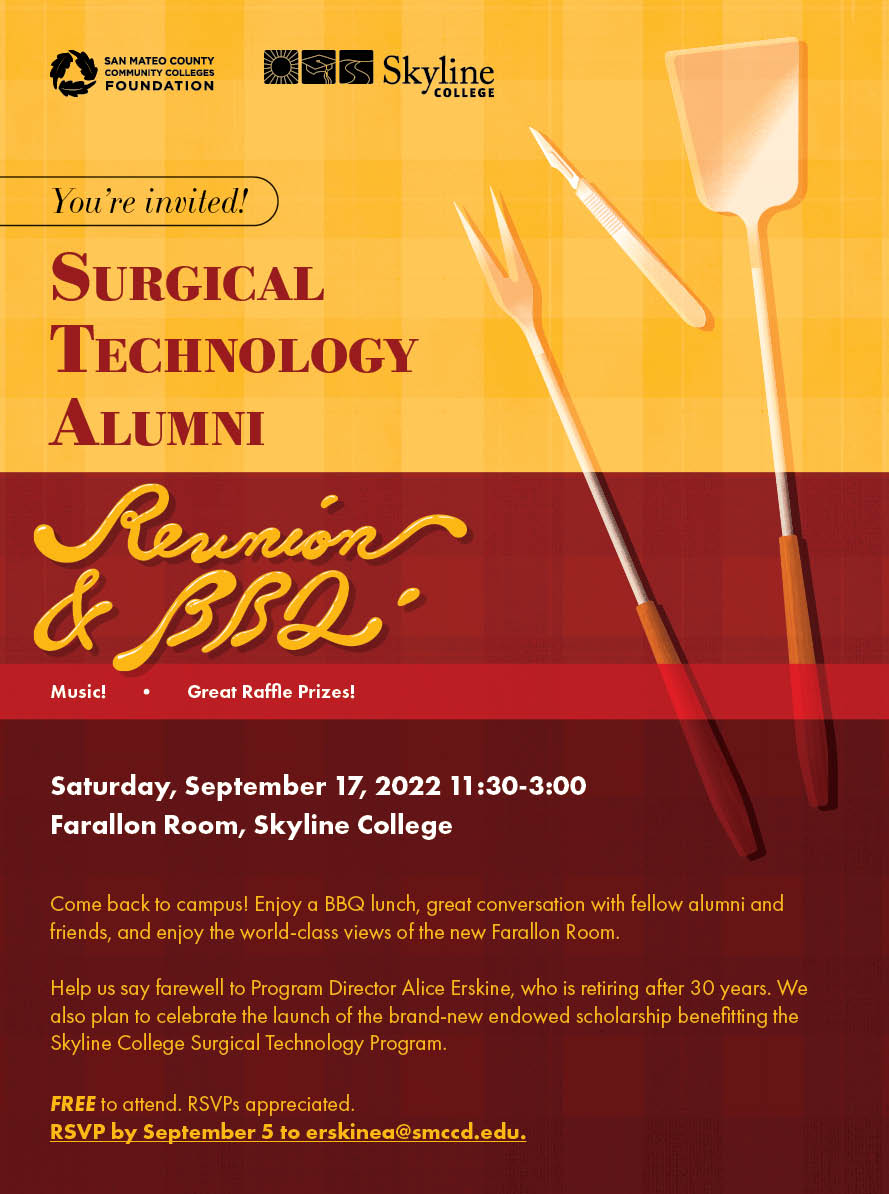 You're invited to the following event:
Saturday, September 17, 2022 | 11:30AM
Farallon Room
Skyline College
Come and join the fun! Make plans now to join Dr. Andy Rosenberg, your former classmates, and industry colleagues at the Surgical Technology Program reunion. We will also celebrate the retirement of legendary program director Alice Erskine and the launch of the new Alice Erskine Surgical Technology Scholarship Fund.
Founded in 1992, Skyline College's Surgical Technology program is considered one of the very best in the region. The program began off-campus in 1992, where it was held at the Hospital Consortium of San Mateo County in Burlingame. In 2001, Skyline built a Surgical Career Center to bring all of that training on-campus. Today, Skyline students complete their practical instruction in a state-of-the-art mock surgical environment, which rounds out their rigorous classroom instruction.
Alice Erskine, RN, MSN, CNOR, has been the professor and the program's director since its founding. She is instrumental in helping to successfully shepherd hundreds of Skyline College students through the program and into medial careers. Her passion for surgery technology and outstanding skill as an educator has positively impacted hundreds of students.
The reunion will include a raffle and a hosted BBQ picnic lunch. "Dr. Andy" as he's affectionally known by all, will be our Master of Ceremonies and is planning a comedic roast of Alice. We will all share a toast to her retirement and the launch of the new Alice Erskine Surgical Technology Scholarship Fund!
The event is FREE to attend. RSVPs by 9/5 appreciated.
This is an event you do not want to miss!
CONTACT INFORMATION
Melissa Rohlfs
Alumni Association Manager
SMCCC Foundation